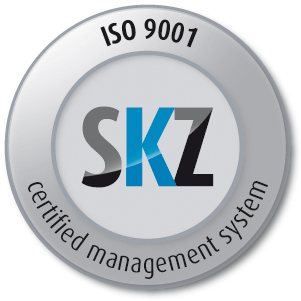 GLENPRO Ingenieur-GmbH has been established in 2011 and its core competence is the technical project management as well as product development.
They deliberately chose the location Würzburg, even though their customers are located in the major automotive centers and plastics processing industries worldwide.
An important milestone in the company's history has now been reached: the management system was audited and since May 19th, 2016, GLENPRO has been certified acc. to ISO 9001:2015. This is an international quality standard, which is increasingly demanded in the industry and unifies the cooperation between companies on a high level of quality.
At the official handover ceremony, Mr. Robert Schmitt from SKZ-Cert GmbH dignified GLENPRO as one of the first companies all over Germany, that has successfully completed the certification.
Thomas Lemke, CEO of GLENPRO, thanked Mr. Schmitt for his constructive and professional lead through the audit procedure as well as Mr. Klaus Groenen, ACT, for his competent and targeted preparation and support. "Without my employees' dilligence, persistence and conviction, we would not have passed the audit so smooth." Thomas Lemke praised his team.
GLENPRO will apply its structured and transparent quality policy even more effectively according to the requirements of ISO 9001: 2015.

Certificate